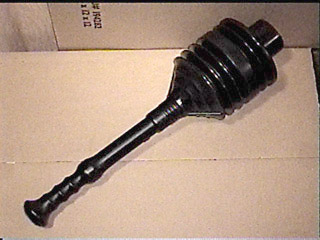 kinda like this with more accordians and a pointier nose
There's a new plunger out there in toiletland. Without going too deeply into the details regarding the need for one, let me just say that the one I have used for years wasn't working. The line was clogged and needed industrial strength power to clear it. Or a plumber. And I didn't want to call the plumber. I just paid Elaine to break into my car after all.
But there's a new style plunger around these days. Only seven bucks, next to the snakes and other paraphernalia for climbing through pipes at the hardware store.

Perhaps this plunger is only new to me. Perhaps it's been around for awhile, since I haven't clogged a toilet in ages -- amazing how that stops when your children go to college.

After talking to all my friends who suggested a plethora of contraptions, my brother -- the Stanford attorney who now fixes cars, but that's another story -- called and said to get this new plunger.

It has an accordian pleat and a narrow nose that can get down father into these new jet flush toilets they make us use now.

Instead of a bulldog, it's a collie.

Needless to say after several days of trying to move a 500 pound gorilla through a two-inch pipe, this new plunger was an eye opener. It cleared the line with one plunge.
I almost wanted to clog the toilet up again just to see that baby do its thing. That was FUN!! Not like the old plungers where you had to stand over the bowl and work the thing up and down to create suction and hope somehow you could make enough force to drive the offending obstacle out of the way. The difference between the old plunger and the new plunger was the difference between blowing out a match with a puff of air and blowing out a match with a jet engine.
BLAMO!! I think I may have cleared the line to Nebraska.
Well, enough about my morning. What crises have you averted today?